Kitesurfing courses for beginners
Discover kitesurfing in complete safety on the Almanarre beach in Hyères (83)
KGG Kitesurf School
For beginners' kitesurfing courses, we offer three types of sessions so that you can discover the discipline from all angles. We make sure that you have every chance on your side to master your board and sail as quickly as possible. The bay of Almanarre in Hyères is a perfect place to practice kitesurfing in complete safety.
Requirements
Know how to swim and be comfortable in the water.
Our beginners' kitesurfing courses allow you to discover kitesurfing and to experience your first gliding sensations.
The course for beginners:
Schedule the time slot the day before by phone to determine the best weather slot
Meeting at the water sports base 10 minutes before the start of the course to validate the licences
Allocation of equipment and briefing before departure
Departure by boat directly to the base
Practical kite course in the open water or on the beach
Debriefing at the end of the course at the school
Several sessions are offered for beginners: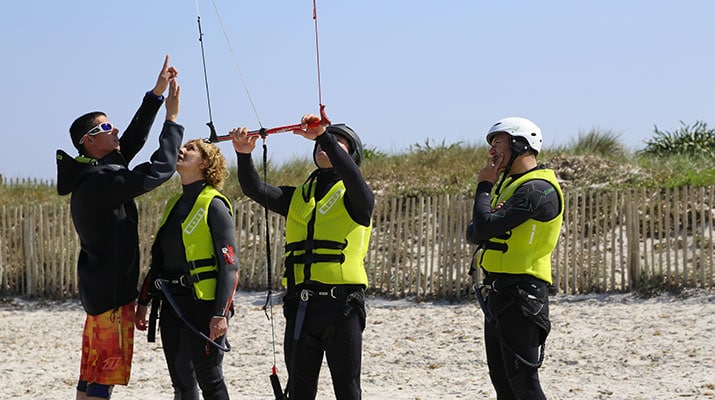 Initiation to Kitesurfing from the beach
Introductory kitesurfing sessions on the beach to discover the kite equipment, get familiar with the rigging of the sail and the different safety systems.
Before taking the kite in hand, you will learn the theoretical information about the flight window and power zones to understand the functioning of your kite.
Kite handling is 80% of the work in kiteboarding.
Learn how to fly the kite, stabilize it and launch the kite to make your first water start.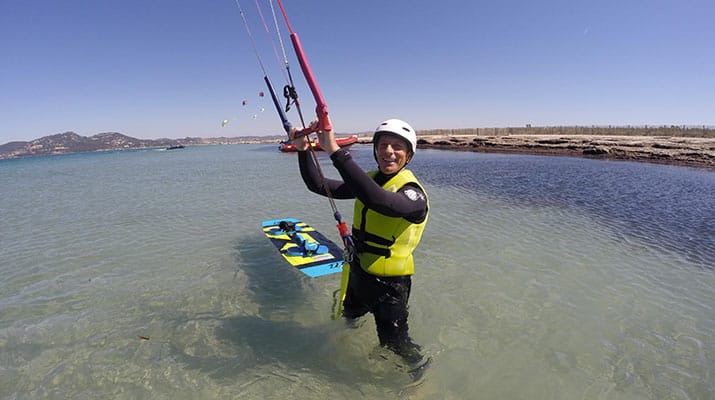 Introduction to kitesurfing in the open water
Open water sessions in the bay of Almanarre in the Var.
Far from any obstacle, you will practice safely the handling of the kite sail and the basics of piloting.
You will be able to initiate yourself to towed swimming and make your first "water start".
You will discover the joys of gliding and make your first tacks over a few meters and then long distances for a maximum of sensations!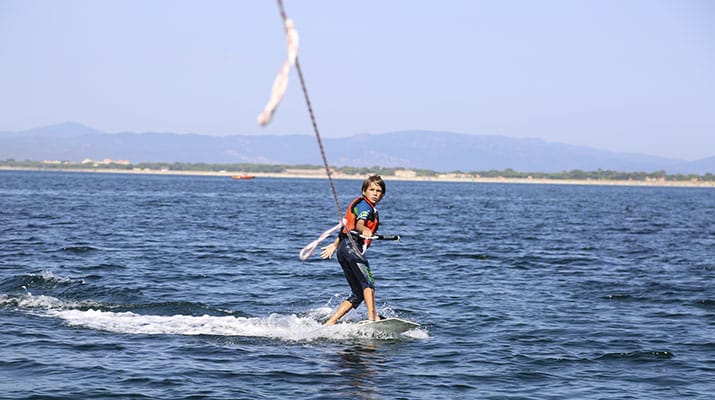 Towed board initiation
This session allows you to discover the glide with the kite board towed behind the boat. You will be able to discover the pleasure of gliding and to concentrate on the work of your supports, your displacements such as you will do it later with your kite.
Our pedagogy consists in isolating the learning of the glide and the handling of the kite to facilitate your progression.
A well-equipped beginner can start the discovery of the activity in a more comfortable way with all the chances on his side.
KGG school in Hyères in the Var
On the programme, strong sensations and good humour!
Key stages in learning to kitesurf for beginners
Discovering the activity of kitesurfing for beginners in different stages: discovering the environment and the equipment, learning the safety rules, piloting the kite and mastering the glide.
Quality equipment adapted for an introduction to kitesurfing
A harness

so that you can attach your kite and use your body as an anchor point and have your arms available for steering the kite.

A wider board

and longer than the classic boards. It offers beginners more stability and facilitates the first water starts and first edges because it has more lift.

The wings

for beginners allow a better take off from the water. They are less reactive, less fast so as not to surprise the kiteboarding beginner who has not yet mastered the piloting of the sail.
In order to practice safely without risk of injury, beginners are equipped with additional protective equipment:
A protective helmet.
A buoyancy waistcoat, comfortable and adapted to kitesurfing.
A 3 to 6 mm wetsuit suitable for various temperatures.
At the end of the beginners' course you can continue your learning with an advanced kitesurf lessons or a kitesurfing course for a more complete training.
The reviews of our kitesurfing school
Come and meet us in Hyères on the bay of Almanarre in the Var (83)
Merci à Greg pour cette semaine de stage très sympathique !!Toujours à l'écoute et de bon conseils.KGG, je recommande ! 😉

Juste une dinguerie ! C'est l'endroit pour apprendre le Kite. Une super ambiance, matos parfait, moniteur en or. Encore merci Greg ! ✌🏼

Merci à Greg et Colin pour un week-end inoubliable ! Notre moniteur, Colin, était attentif, professionnel, et très sympa, traduisant les explications en anglais juste pour moi et me déposant à la gare à la fin du cours. C'était ma première fois à faire du kitesurf mais après cette expérience avec l'équipe KGG ce ne sera pas la dernière - j'ai hâte de retourner chez eux la prochaine fois pour continuer à améliorer 💪

Jennifer Griggs
1699217371
Découverte du foil pour mon fils de 15 ans, Grégoire est super isponible et sérieux sur la technique mais aussi fun pour que le cours soit sympa ! Materiel ok. Merci mon fils s'est régalé ! On reviendra,, je recommande!

Caroline Paquet
1698257731
École au top! Sérieux, sécurité! Des explications claires qui font enfin vraiment progresser! Des profs sympa et très pédagogue. Je recommande les yeux fermés

Julianne Tourny
1697952772
J'avais prit des cours de Kite il y a 6 ans avec KGG étant très contente de cette école, j'y suis retournée pour apprendre la wing. Encore une fois, c'était parfait merci Greg, Colin et Léo pour votre patience (il en fallait avec moi 😅) une équipe au top, toujours de bonne humeur ! Merci KGG !

Géraldine SALOME
1697026083
Une école recommandée par une amie, j'y suis donc allée de base les yeux fermés et au final sans regrets.En cours co. avec Colin, il est patient et bienveillant et considère chaque élève.Petit debriefing théorique avec Greg, sur le fonctionnement réel du kite, très instructif, qui casse les idées reçues.Matériel en parfait état et de dernière générationSpot sympaMerci à Colin et Greg

Je recommande à 100% : pédagogie, sécurité et bonne humeur !!

Merci à Colin pour la première journée et Greg pour la suite. J'ai adoré !!Le cadre est exceptionnel.A très bientôtOlivier

Olivier "Olivier"
1694281639
Très beau stage avec KGGJe reviens sur l'année pro 😉

Super expérience avec mon fils de 12 ansSur 2 sessions ( week-end)Greg au top 👌

Olivier COUTANT
1691734654
Merci à Léo et Colin pour cette fabuleuse aventure ! Bonne ambiance et une attention particulière aux appréhensions de chacun. Ma fille et moi même n'ayant jamais navigué avons choisi un stage d'une semaine qui nous a gentiment donné l'envie de continuer la semaine suivante 🙂 Au plaisir.

Jérôme Lindecker
1691497519
super école: dépose en mer à bord de vrais bateaux (pas des annexes ou vous êtes malade avant d'arriver au point de départ), matériel Duotone neuf et surtout une équipe très sympa avec une vraie pédago qui vous permet de progresser hyper rapidement. Pour en avoir testé plusieurs je recommande de loin +++

École super bien organisée pour optimiser le temps de navigation et la gestion contraignante du matos. C'est pas comme ça partout !Merci Colin pour cette bonne semaine de kite libre sous surveillance. Avec le sourire en toute circonstance.

christophe harlay
1691166299
Bonjour j ai fait une super initiation au foil dans cete ecole avec un moniteur disponible, prenant le temps, de bonne humeur, donnant de bons conseils pour évoluer et progresser.Merci pour ce cours tres agreable.

Fred Swiklinski
1690623297
Superbe bonne première sortie en foil tractée! Très bons pédagogues, et les moniteurs donnent touts les conseils nécessaires pour apprendre au mieux, dans les meilleures conditions et en toute sécurité!Je recommande très vivement.

J'ai fait un stage fin Juin 2023une équipe pro et sympa, le topMerci pour les progrès :)rdv en septembre

angelier claude
1689676403
Sans aucune expérience du kite surf, j'ai eu mon premier cours cet après-midi avec Colin. Très bon pédagogue. Je suis contente de ce premier essai et cela m'a motivée pour revenir après-demain.Je remercie Greg, Colin et Léo pour leur accueil chaleureux.Chantal

CHANTAL ENTRESSANGLE
1688494670
Superbe école de kite où j'ai pu progresser rapidement en 5 cours. Greg et Colin sont patient et pédagogue. Je me suis senti en sécurité tout le long. Je vous dit à dans quelques semaines 🙂

J'ai eu du plaisir à naviguer avec Greg. Materiel toujours neuf de l'année, navigation loin de l'agitation de la plage avec un départ en zodiac directement de son ponton.Une serveillance parfaite lors de nos navigations et des cours et conseilles tant sur l'eau qu'à son école.Des cours d'une grande qualité et adaptés à chacun.Je recommande KGG. Bonne navigation à tous. Franck