Baby has arrived and you're ready to start kitesurfing again after so many months of inactivity. But even if you're particularly eager to get back into it, there are a few conditions that need to be met to ensure that everything goes smoothly.
Is it time to kite again?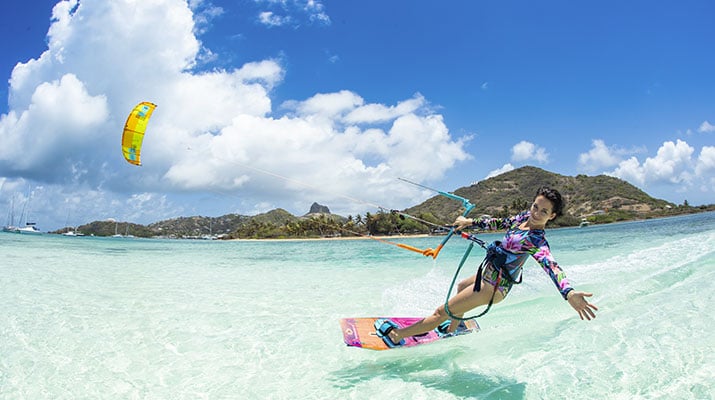 To protect yourself and your baby, you forgot about the kite for a few months and it weighed on you. Now baby is here. But first of all, it is essential to be patient. You will have to go through several stages before you can go out on your board again.
You will have to re-train certain areas that were somewhat forgotten during pregnancy. As with all new mothers, the perineum requires special care, starting the day after giving birth. But you will also need to work on the transverses, not forgetting your obliques, during the four weeks following the birth in order to effectively strengthen the abdominal belt, which plays a vital role in kite flying. Do not forget to include some exercises to strengthen the abdominal muscles and the rectus abdominis in your training sessions. This is essential for good balance.
Another area to consider before getting back in the water is the back and the stabilising muscles around the spine. Start these specific exercises two weeks after giving birth. They have the added advantage of reducing your belly in an interesting way.
Then move on to the final stage of your preparation: rebuilding the upper and lower body. Arms and legs will need to be re-muscled to hold on to the board and the sail. These last exercises can be started as early as 4 weeks after the birth. Use light dumbbells at first.
However, if you have suffered from distension of the rectus abdominis during childbirth (i.e. diastasis), all these exercises will have to wait for a longer period of time before you can do them again. You will need to consult your doctor to find out more.
Remodelling is good, but it's not everything!


Returning to sport will both be good for your heart system and at the same time demand extra effort from it. And as kitesurfing is also very demanding on your heart (and lungs for breath). You should therefore add some small exercises to improve your cardiac endurance and get your heart back on track after those long months of inactivity. For this you can choose Nordic walking or cycling if your perineum remains weak. If, on the other hand, your perineum is in good shape, you can choose to run or do a relaxed version of Zumba (yes, it exists!).
In any case, it is essential to adapt the sport to your needs and desires. In any case, you will have to wait until you are back from childbirth (between 6 and 8 weeks postpartum) to practice the most demanding activities. Before that, you can devote yourself to specialised yoga sessions for young mothers to gently work all your muscles. This is a great way to wake up your transversus abdominis, obliques and rectus abdominis without violence.
Remember that childbirth was traumatic for your body. Give it time to recover. Even if you feel in great shape, do not overdo it. No more than 2 or 3 short sports sessions per week at the beginning. Just to wake up your muscles. Then lengthen the sessions a little and continue training once your body has fully recovered. It is very important to go very gradually. You will then be in good shape to resume your kiteboarding exploits (well, again, go gradually).
More to know before you start kiteboarding again
Even if you are totally passionate about kitesurfing, after a long break, you might feel stressed or even afraid of the waves. Don't worry, this is normal. You are afraid of not being able to do it anymore, but also of "damaging" yourself. It's a natural instinct, you are responsible for a little being now and your survival instinct will speak. You will have to get back into the swing of things gradually. Don't hesitate to ask for help if you are afraid. You could do it before, you can do it again after. But here again, give yourself time.
Fatigue will also play an important role in getting back into sports. Baby is a little devil sometimes and your nights will be totally changed. You will be tired. You will have to adapt your kiteboarding sessions to your remaining energy. Keep your sessions shorter. When the little guy or girl is sleeping, you can practice as you wish.
Finally, think about your kitesurfing equipment. You will inevitably need to change it: a new wetsuit (thicker if you are cold), a new board (you need to feel safe with it and for that you could opt for a thicker model). If you have any questions, you can consult the professionals at our KGG school in Hyères.
You are now ready to start kiteboarding again after the arrival of your baby. Don't hesitate to show him what you can do, he could also become passionate!